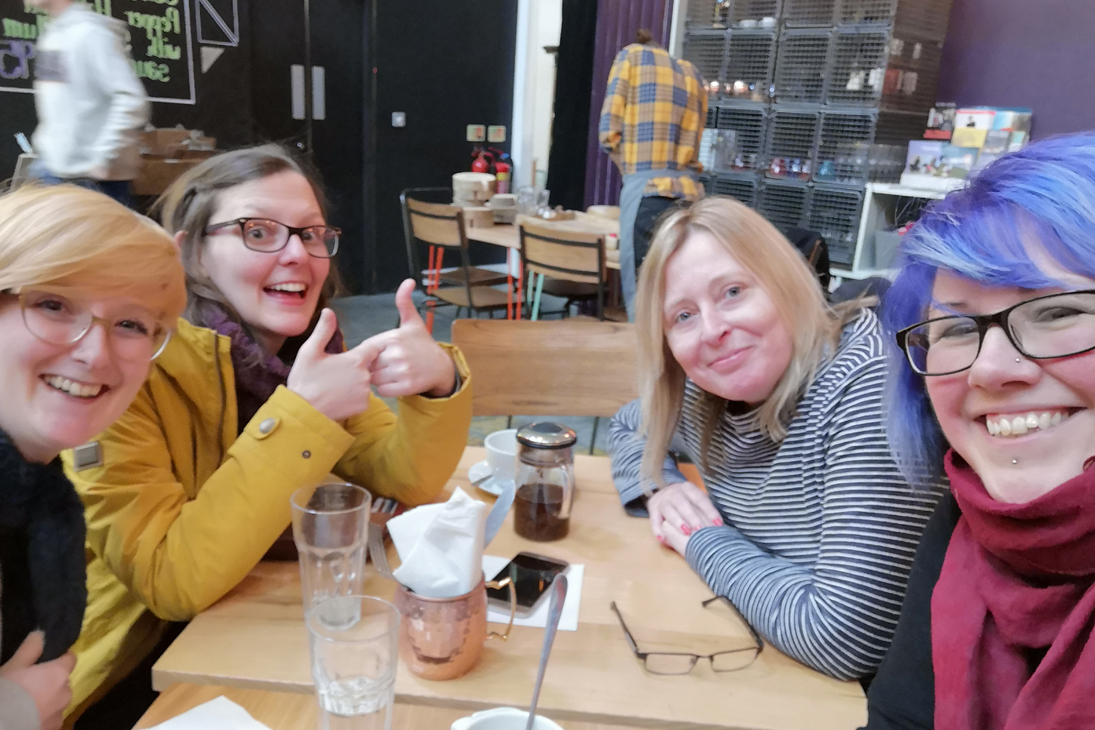 dating apt. with Claire (Nafftastic/Splinter Studio) and Marie (Kochi Kochi)
Move over Tinder, you aren't "dating" properly unless you are invited on our dating apt. a regular blog where we go on a "date" with people we admire, people we work with, people we collaborate with or just interesting folk and get them to talk to us about what they are doing.
When: February 2019
Where:Tusk Food & Drink Sanctuary Liverpool
Who: Sarah, Rachael, Claire (illustrator, Nafftastic and Splinter Studio) and Marie Jones (Artist and Maker, Kochi-kochi)
What: 3 x brekky fries and a super cheese on toast.
To celebrate apt. launching, we decided to invite Claire and Marie for lunch at Tusk Baltic, a relaxed eaterie located on Nelson Street in the Northern Lights building part of the Cains Brewery Development. It's a friendly place with a great menu (vegan friendly) and a environmental theme (it's called Tusk because they love elephants, and to quote their website "every bottle of table water comes with a suggested £1.00 donation to Elephant Hills which we'll match.")
After finding a table in Tusk, we perused the lunchtime menu. This is harder than you think when there is a fab variety of tasty food on offer. We chose brekky fries and super cheese on toast. Perfect! Things moved swiftly on to a discussion about how dodgy the non-alcoholic cider might be (it wasn't at all by the way, we highly recommend it) before finally placing our order with the very patient staff member.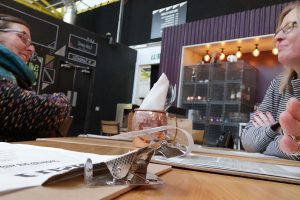 It's been a while since we all got together so what is going on in the worlds of Claire and Marie?
Claire and Marie are long time friends and colleagues of ours, who do something different. Claire has worked at Splinter Studio for many years but is also known for her amazing freelance illustration work that she creates under the guise Nafftastic.  Claire's work is a lot of fun and centres around Sci-fi, gaming, fantasy, popular culture and cooking. One of our most favourite things in her work is her Twin Peaks doughnut cook book and we wish we'd been able to live in her house while she crafted the flavours of doughnuts that match each character from the notable TV series!
Marie worked with Splinter a few years back before she moved on to pursue her love of all things crafty under the moniker Kochi Kochi. An amazing visual artist and maker, she has recently been known to lurk around knitting machines and knit typography as she re-contextualises domestic crafts into sculptures and hangings (her words, not ours).
Marie told us she has recently become a Crafts Council Hothouse Cohort for 2019. This means she will be able to benefit from a 6-12 month programme of creative and business development for new, talented makers at the beginning of their careers. Such fantastic news and a great way to put her work front and centre for many different industries and potential clients. This coincides with her having found some artist space in the Trafford Centre to enable her to work on her large scale projects which is really exciting.  She has also managed to swing a solo show at a gallery in Warrington in September this year so we look forward to going on a road trip down to see her there and will post up the info when we have it.
Claire is working hard on Splinter Studio things but as ever, is cooking up more amazing work based on "fantasy, nerdy & sci-fi, oh my!" She runs her own Etsy store where you can get hold of her illustrations (and her Twin peaks cook book). A regular at the Arts markets in Liverpool, Claire sells her work globally to us "nerds" who love something different. *Sarah – "I personally have a set of her Star Trek Original Series and Red Dwarf Xmas cards… because every nerd should have them!" Claire has some more things planned this year so we can't wait to see what she produces.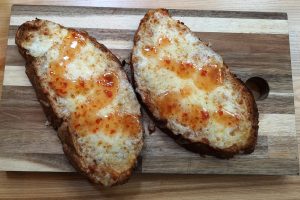 Our food arrived and topics of conversation went from the change in the Baltic Triangle area of Liverpool since Splinter first moved there in the year 2000, to how funding for the arts has changed so much since Rach was in charge of the ACID Fund and to how cold artists studio's usually are (they really are FREEZING). It may also have touched upon the Japanese Poo Museum  and Marie knitting super large bums (she hasn't got any plans too yet but you never know ha ha!) before our time ran out and we had to leave.
It was a lot of fun catching up and lunch in Tusk was delicious. We will definitely check in again with Claire and Marie to see how they are doing.
You can find Marie at
Web: Kochi Kochi
Insta: kochi_kochi
Twitter: @kochi_kochi
You can find Claire at
Web: Nafftastic
Insta: Nafftastic
Twitter: @Nafftastic
Etsy: nafftastic.etsy.com
You can find Tusk at
Web: Tusk Food & Drink Sanctuary
Insta: Tuskbaltic
Twitter: @tuskbaltic
FB: Tusk Baltic
Sorry, the comment form is closed at this time.