Seasons greetings!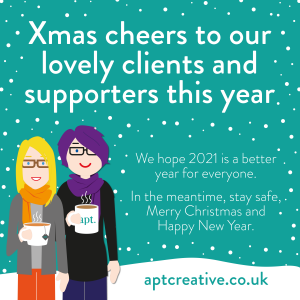 Sitting at home at my workspace, as is the new normal right now, listening to the chaos that is my house going about their business, I have been having a think about this strange year. I'm not sure anyone could have predicted this year would turn out the way it has. Aside from being a personal challenge with working from home and being isolated from Rach and other humans and juggling home schooling my kids, it's been a business challenge to keep our services running smoothly and make sure we can support our clients and suppliers in as many ways as we can. I found it has been a great leveller for us to create new working relationships with established clients, finding new ways to work alongside them as well as finding new clients who need different services.
There have been huge benefits too. Personally, being able to spend more time with my children has been great. Not having the commute and the crazy running round and being able to do the school run was brilliant fun and gave me the opportunity to be closer to them than ever. Having that extra time is a blessing.
So we just wanted to say a big thank you to everyone who has worked with us, and supported us through this year. Next year looks as if it's going to be equally uncertain for everyone but we'd like to be positive and there are some exciting projects afoot in the new year which we are really looking forward too so on that note, we wish everyone a happy holiday and all the best in 2021.
Sorry, the comment form is closed at this time.